Language
Test Kay Pictures Low pediatrycznny ( snellen) do dali i do bliży , 59813 KPTLOW
Kay Picture Test low Book (3 m) pediatric, from the 18th month
Shipping within

.

Shipping price

0

The Availability Of

na zamówienie

1

opak

The Weight Of The

1 kg
Zamówienie telefoniczne: 22 651 82 85
Description

Info2

Reviews & ratings (0)
Description
The new Kay Picture Test Low Vision Book is specifically targeted at testing those with poor vision.
It provides uncrowded picture visual acuity testing at three metres and near. Our Low Vision Book comprises fourteen acuity sizes from LogMAR 1.3 to 0.0. At each acuity size you will find three or four picture options. The size notation is shown on the side index and on the page facing the tester. These are LogMAR, Snellen Metres and Feet.
In addition, there is a near vision test that displays two pictures at each acuity size from LogMAR 1.3 to 0.0 at 33 cm in a widely spaced chart for easier identification. Full instructions are printed on the inside cover. A matching card is also included for picture recognition or for use during testing. Age 18 months+.
The Kay Picture Test New Low Vision Book is packaged in a frosted PVC wallet with flap closure for safe storage in between uses.
The test comprises our new, fully-researched picture optotypes that provide a reliable visual acuity measurement comparable with ETDRS.


Kay Pictures is a small family company founded in 1984 by orthoparist Hazel Kay, who develops its own program of early measurements and examination of visual acuity in young children (up to 18 months of age) and those with learning disorders. Kay Pictures project is created by Hazel Kay and Sebastian Gibbs Throughout the years of work, Hazel has designed many complementary pediatric and orthoptotic tests for fixation, visual obstruction, color eye stickers and other therapeutic products for color vision. They also offer pediatric tests to test color vision and stereo tests.

Her optotypes have been reviewed, modernized and approved after extensive research by the University of Liverpool leadership and the Department of Orthophetics and Views Sciences. The visual acuity tests are used by specialist medical personnel such as orthoptists, ophthalmologists, optometrists, as well as school nurses, teachers dealing with students with a marked impairment of vision or paediatricians.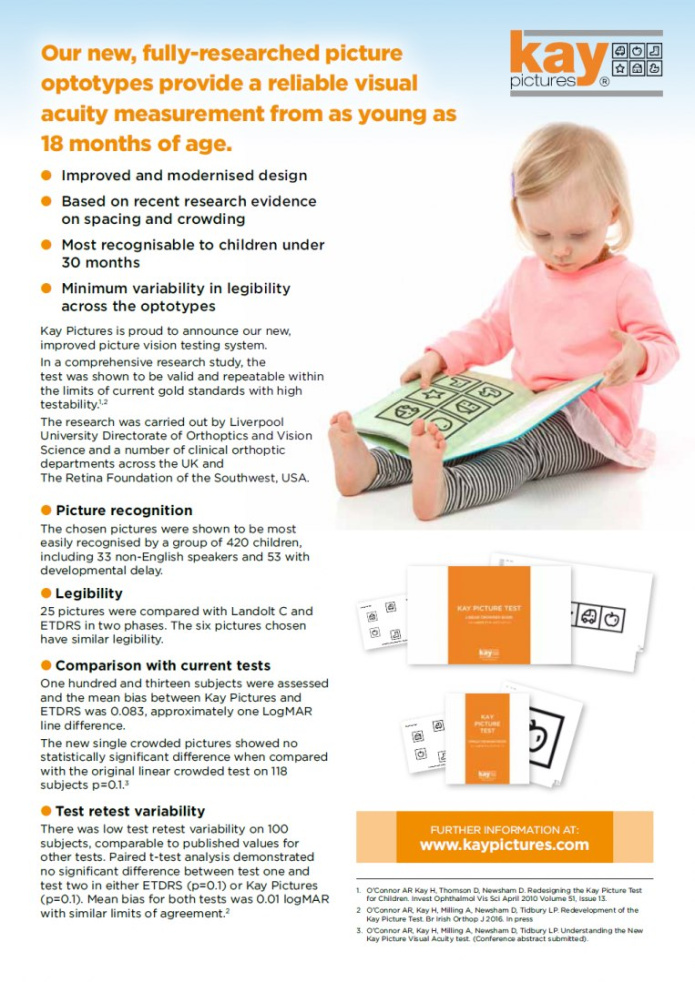 There is currently no comments or ratings for this product.